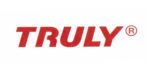 Truly is a wholly owned subsidiary of Truly International Holdings. The group was founded in 1978 and listed in the Hong Kong Stock Exchange in 1991 (stock code: 00732). Headquartered in Hong Kong, They have two manufacturing plants with 20,000+ strong staff in Shanwei and 10,000+ in Huizhou, both in Guangdong province, China where production happens.
They manufacture small to medium size displays for various industries including but not limited to the automotive, industrial, medical and consumer electronics field. Truly has been investing resources commited to developing and manufacturing flat display products. Initially starting off with a basic TN LCD line, Truly now has world class LCD production lines, OLED production lines and automotive assembly production lines, which cover TN, STN, Character & Graphic LCD, TFT, AMOLED, OLED, Touch, EPD and 3D display products.
No matter if you are looking for a simple monochrome segmented display to a quantum color depth TFT liquid crystal display to an Active Matrix Organic Light Emitting Diode (AMOLED), Truly is here to assist you. Our resistive and capacitive touch panels can be provided as a standalone or to go with your displays.
Customized designs are our absolute forté since we produce all major components by ourselves.
Products
TFT, Touch, AMOLED, OLED, LCD, Character & Graphic Displays
Link to