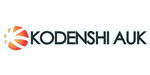 Established in 1980, KODENSHI Korea is a manufacturer with leading new technologies and products in the optical semiconductor field by continuous research with the vision to create world standard products and pursuing world #1 products for customers.

In 2010 KODENSHI Korea announced to merging thier affiliated companies together, to react actively on the rapidly changing world economic environment, to create technical and economical synergy by merging R&D as well as technology and manufacturing to become a leading company named as KODENSHI AUK in the field of electronic components, and to expand to new business field focusing on eco-friendly business.

KODENSHI AUK also focusing in Automotive and Industrial Applications, targeting long term availability and cost efficiency. With own Wafer Fab, R+D and Assembly, KODENSHI AUK offers a Front- to Back-End Supply in comparison to most all other Vendors in the market.
Products
IR Emitter Diode, Photo Diode, Photo Transistors, Daylight Sensors, Photo Darlingtons, Ambient Light & Proximity Sensors, IR   Receiver Modules, IR Transceiver Modules, Photocouplers, Phototransistors, Photointerrupers (Reflective, Transmissive, Actuator Type, Digital Output, Seperated Type), Distance Sensors, Encoder, Paper Sensors