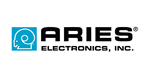 Aries Electronics, incorporated in 1972, began when the late William "Bill" Sinclair purchased the back panel line from Thomas & Betts Corporation. The line included IC sockets, headers, and printed circuit cards. Under Bill's vision, Aries expanded the line to encompass a wide variety of packaging products, including sockets, headers and covers, programmable devices and a variety of jumper and cable assemblies.
Aries Electronics has become established in the industry as a major source for unique connector products that solve a wide variety of packaging problems. Recognized as industry leader in ZIF (Zero-Insertion-Force) Test Sockets for DIP, PGA, PLCC, SOIC devices, and continues to be a leading source for a wide variety of specialty electronic connectors.
In recent years, Aries Electronics has made major inroads in the market for high-temperature sockets and flexible cable products. The addition of the Correct-A-Chip® product line established the company as a major source for "intelligent connectors" (incorporating other components, both passive and active), adapters (connectors that allow the use of one termination style on a board designed for a different termination style).
Most recently, Aries Electronics has developed and patented several concepts for BGA (ball grid array) and LGA (land grid array) sockets. Acquired a high-frequency test and burn-in socket line, furthering growth in the test socket market.
Products
Custom High-Frequency (RF) Socket Design (-1dB Bandwidth at >60GHz), Patented Limited-Depth Pin Assembly (Correct-A-Chip Adaptors), Surface-mounting of Electronic Components onto adaptors, Molding Engineered Plastics with Extremely Tight Tolerances (for devices on <0.2mm pitch), Bending Pins (Vertisocket™Line) LED/LCD applications, Installation of Pins into Plastic, Crimping Connectors on Flat Cable, Flat Cable Wire Stripping and Separation, Correct-A-Chip Adapters, Burn-In & ZIF Test Sockets, High Temp Sockets, High Frequenzy (RF) Test Sockets, LED and LCD Display Sockets, DIP and SIP Sockets & Headers, DIP and SIP Sockets & Headers, PGA & other Sockets, Programming Devices, Cable Assemblies, Tools & Accessories
Aries Test & Burn-In / Adapters Download