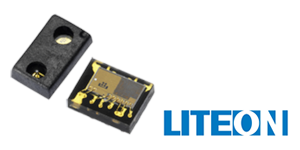 Reliable, Low cost ambient light & proximity sensors

Integrated low-voltage digital proximity sensor (l2C) with built-in emitter in a single lead-free miniature chip package for SMD surface mounting. With built-in proximity sensor (emitter and detector) provides the ability to detect objects at a user configurable distance.


| Sensor type | Output | Dimensions | Features | LITEON Partnumber |
| --- | --- | --- | --- | --- |
| Proximity | Digital I²C | L 3.94x W 2.36 x H 1.35 | 2.4 to 3.6V, Topr -30 to +70 °C | Auf Anfrage |
Low voltage I2C digital light sensor [ALS] in a low cost, lead-free miniature package for SMD surface mounting. This sensor converts light intensity into a digital output signal that can be connected directly to an I2C interface. It provides a linear response over a wide dynamic range from 0.01 lux to 64k lux and is well suited for high ambient light applications.


| Sensor type | Output | Dimensions | Features | LITEON Partnumber |
| --- | --- | --- | --- | --- |
| ALS | Digital I²C | L 2.00x W 2.00 x H 0.70 | 2.4V to 3.6V, Topr -30 to +70 °C | Auf Anfrage |
|   | Digital I²C | L 2.00x W 2.00 x H 0.70 | 1.7V to 3.6V, Topr -40 to +85 °C | Auf Anfrage |
 
Manufacturer LITEON: https://www.dema.net/manufacturer/liteon-optoelectronic