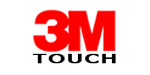 3M™ Touch (Sensors & Displays)
For more than 25 years, 3M Touch Systems, a division of 3M Company, has been a world leader in providing display solutions and systems to customers around the world. 3M™ Multi-Touch displays and systems are used in many environments - whether retail, digital signage, games, leisure, education, automotive or enterprise.
The range includes a multitude of solutions up to the new 65 inch with 80 simultaneous touch points.
Products
Single-Touch (MicroTouch™) Displays, Multi-Touch Displays, Touch Electronic Components