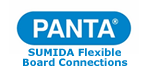 Sumida Panta(c) (FFC Cable)
SUMIDA flexible connections GmbH – As a market leader of flexible interconnect systems, we develop and produce high-tech products for the electronics industry.
Flexible Flat Cables (FFC) and Flexible Board Connections (FBC) combine the advantages of our core technologies; flat rolling and lamination. FFC and FBC can be advantageously used in places where electrical connections require high flexibility and/or where PCBs need to be connected in various packaging configurations.
With Flexible Modules (FM), we combine product know-how and system expertise to provide our customers assemblies used for climate sensors, airbag transmission cables and lighting systems (as examples). The Flexible Flat Cable (FFC) and Flexible Board Connector (FBC) products, which have their origin in our base technologies, are assembled into functional units through suitable connecting methods, overmolding and assembly steps.

Products
ZIF Jumper, FIX Jumper, FIX Crimp, FLL, SMD, PIP, FIX Power, HT Jumper, 3D Jumper, FFC
Link to