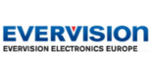 Evervision (TFT Displays)
Evervision Electronics, founded in 1998, is a specialized LCD and LCM manufacturer offering customized TN, HTN, VA, STN, FSTN, DFSTN and ASTN technology. We supply extensive semi and full custom monochrome LC modules with COB, COF, COG and TAB technology. Furthermore, Evervision Electronics cooperates with one TFT panel manufacturers and integrates this technology to provide an interesting range of standard TFT modules and enlarges the service range by customized modifications. The TFT portfolio covers sizes from 3.5" to 10.2", larger sizes on request.

Their Kunshan factory in mainland China stands for flexible production capacities and processes, to fulfill the needs and quantities for professional applications. Highly skilled employees working at three locations in Taiwan and Mainland China. Evervision Electronics is certified for: ISO9001, ISO14001, IATF16949.
Products
TFT, Touch, IPCT Touchpanel, Smart UART, LCD, TN, HTN, STN, FSTN, FFSTN, ASTN and VA (Vertical Alignment)