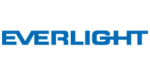 Everlight (LED Lighting)
Everlight Europe is the European Sales arm of Everlight Electronics – a leading global Optoelectronics manufacturer of low and high Power VISIBLE LED's, SMD and Thru-Hole Lamps, Digital Displays, INFRARED Emitters, Optical Sensors, Fiber Optic and Optocoupler components. They providing solutions for various applications in the lighting, consumer, computing, automotive, telecommunication and industrial market segments.

Their rapid growth to become a top ten Optoelectronics supplier is the combined result of its well-engineered products, highly efficient manufacturing facilities and extensive global supply chain. Founded in 1983, Everlight Electronics headquartered in Taipei, Taiwan. They are dedicated to certification, R&D, production, quality, marketing and global customer service. And they have always placed customer satisfaction as their top priority, constantly working on improving production procedures, productivity, production flexibility, and manufacturing efficiency.
Everlight Electronics Manufacturing facilities are located in China (Suzhou; Guangzhou) & Taiwan (Tu-Cheng; Yuan-Li).
Products
Automotive LED, Agricultural LED, Singage LED, LED Lighting