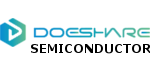 Doeshare Semiconductor Technology
Doeshare Semiconductor Technology Co., Ltd. was established in Shenzhen, China by a group of world-renowned semiconductor designteam and Taiwan experts in the field. This professional designteam owns many feasible patents that strictly focus on the development of thyristor power semiconductors (TRIAC/SIDAC/SCR/TSS). As leading in the thyristor technology segment, we embedded OVP & DC circuit into one chip as system on chip that is yet to be done by other competitors. With vertical integration from IC design to manufacturing, we provide our customers the most reliable AC power solutions with thyristor semiconductor.
As the new energy vehicles, the IOTs, telecommunications, industrial control and smart-home applications are booming significantly year by year, the dynamic parametric characteristics, high-temperature performance and reliability requirements of thyristors become more vital and critical. Doeshare's products are competent or even out-level when comparing with some of the world-class leading manufacturers. Not only the thyristor, we are also aim to develop IGBT modules, MOSFET products and SSR in specific applications. We continue to strive, satisfy and eventually surpass our customers expectations.
Products
Thyristor Devices, TRIAC, SCR, TSPD, SIDAC, IGBT Modules, Mosfet P-Channel, Mosfet N-Channel, SiC Schottky Diode, TVS, Zener Diodes, Standard Recovery Rectifiers, Small Signal Products, Transistors
Doeshare Semiconductor Download