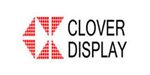 Clover (TFT Displays)
Starting off as a team member of Kontoy Products Company Limited, which focused on electronic board assembling, Clover Display was established in 1983. They developed its business in LCD manufacturing and chemical engineering production, processes which are very hard to perfect, but they attained the impossible.

A Clover (trefoil) usually has three leaves, but occasionally it has four leaves, a probaility of 1 in 1000. The four-leaf clovers, like other rarities, are considered as lucky. A common idiom is "to be in clover', which means to be living in a carefree ease, comfort or prosperity. The four leaves clover symbolizes that Clover Display never gives up in developing new applications for different products. They are competitive and perseverant, despite different challenges and hardships.

A strong R&D team in Hong Kong allows Clover Display to continuously develop LCD and LCM for new applications. A 8000 square meter factory was established, which specialized in customer design LCD and LCM for industrial applications. Facilities in Hong Kong and Shunde mainly focus on industrial applications, such as control units, energy meters, equipments, automotives, health equipments, medical equipment, home appliances, fax machine/ feature phone, sport coaching meter, thermostats , etc.

Clover Display production lines and facilities have met the standard of ISO/TS 16949, ISO 9001 and ISO 14001 to ensure our products and service quality.
Products
TFT, Touch, LCD, Character & Graphic Display
Link to